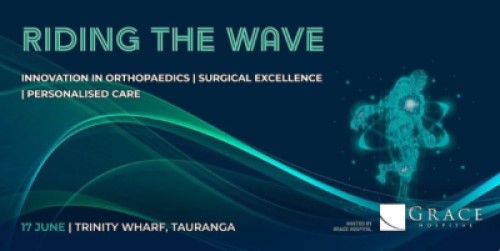 Are you ready to Ride the Wave?
Come join us to explore new technologies, orthopaedic innovation and future trends to enable surgical excellence and personalised care.
Our keynote speaker is Nanogirl, Dr Michelle Dickinson (MNZM) (Nanogirl | Dr Michelle Dickinson medickinson.com), a Nanotechnologist and Materials Engineer who is perfectly placed to give us an insight into what the future of medical technology might look like.
Immerse yourself in a mix of scientific and practical presentations including:
some of NZs leading orthopaedic surgeons discussing new approaches and techniques
robotic surgery
advances in models of care
infection control innovation
extended nursing roles
You will leave with a real insight into the future of orthopaedics - tomorrow's advances start today!
Your ticket also includes pre-conference drinks and nibbles and a chance to view a state-of-the-art, futuristic operating theatre hosted by Cubro.
The pre-conference event will take place on Friday 16th June from 1700 to 1900 and will be held at Cubro, 149 Taurikura Drive, Tauriko, Tauranga.
Transport from Trinity Wharf @ 1630 will be provided.

Click here for tickets.

Click here for Conference Program.